Every time I went home for Hari Raya celebration, two types of food belong to my 'must buy' or 'wajib beli' list for 'Sungkai' or break fasting of Ramadhan. And this two type of food can be found only at Sandakan. Places other than Sandakan that tried to imitate the food will proved dead wrong receipe, wrong taste and definitely rejected. The famous food uniquely attached to Sandakan are Murtabak Sandakan and Coto Makassar Sandakan....fuhh meleleh air liur....hehehehe...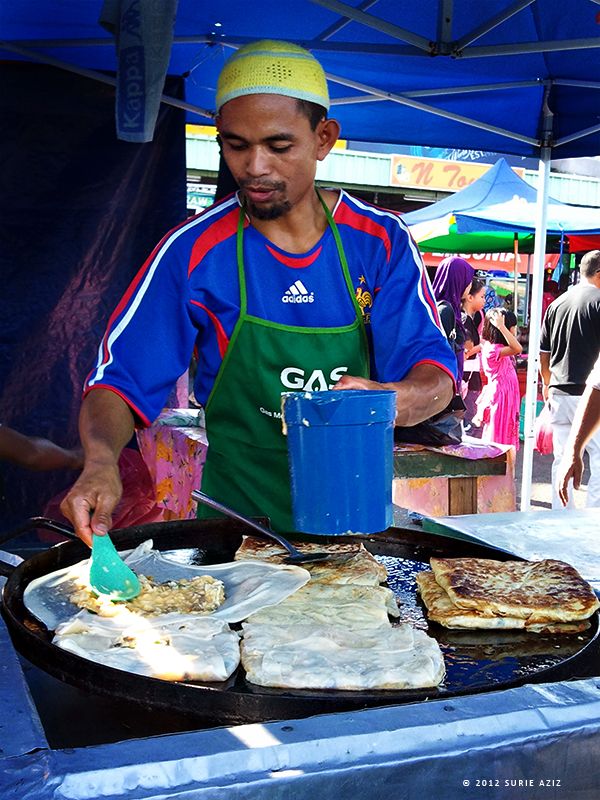 Murtabak is a type of savoury stuffed pancake which consists of skin layer made of flour and mixture filling of egg, chicken or beef, and vegetables. It is accompanied and served with vegetables salad of cucumber and carrot. So what so special about Murtabak Sandakan? Murtabak Sandakan is special because of the soft thin layer of skin, thick filling with lots and lots of eggs without pungent spices, un-stingy/'tidak kedekut' fillings and made by a Sandakanian with a warm smile.... that means and feels a lot....hahaha.....

However this Murtabak Sandakan can only be found during Ramadhan month which made special for break fasting.....and made it so special because can be eaten once a year...!


Actually there are plenty of Murtabak sold at various places in Sabah or Malaysia. They usually called it Murtabak Jawa especially at Kota Kinabalu. Lately there are attempts to making Murtabak Sandakan at Kota Kinabalu but it will never be the same taste. That I can guarantee you... :)

Same stories goes to Coto Makassar Sandakan which is originally an Indonesian food. However Coto Makassar are sold everyday and is a common food. And again the Sandakan's Coto Makassar is much, much, much tastier than Coto at other places which can be grouped into two categories, the lighter colour with milkier/'lemak' taste and the darker colour with strong taste and thick gravy. Coto Makassar's sambal or chilie spices mixture plays an important roles in enhancing the taste which again differentiate the cook specialty. Last Ramadhan, I found a street stall at Kepayan, Kota Kinabalu selling this Coto Makassar Sandakan ( with the word 'Sandakan' clearly written). The taste could not fight with the standard Coto Makassar Sandakan and maybe up to 50% taste of the original one. For those who craved for this type of Coto....what can I say.....boleh laaaaaa...

Try out these Coto Makassar varieties yourself, and you will understand what I mean....



[ sorry for the low photo quality....captured with my camera handphone only... ]

Samsung Galaxy S Camera Phone
Location : Taman Fajar, Sandakan, Sabah.